Faced with intense price pressure, an energy-intensive company recently used Datapred to test gas hedging strategies, as part of a larger cost reduction initiative.
Here is a summary of the significant cost and risk optimization potential the company uncovered.
Context and main questions
The company is a leading player in an energy-intensive sector, buying and hedging natural gas on two major EEX markets.
Unlike some of its competitors, that company didn't announce factory shutdowns because of high energy prices in 2022. Nonetheless, as summarized below, recent energy market conditions did push management to challenge the legacy gas hedging strategy — experimenting with quarterly futures and playing with average transaction size.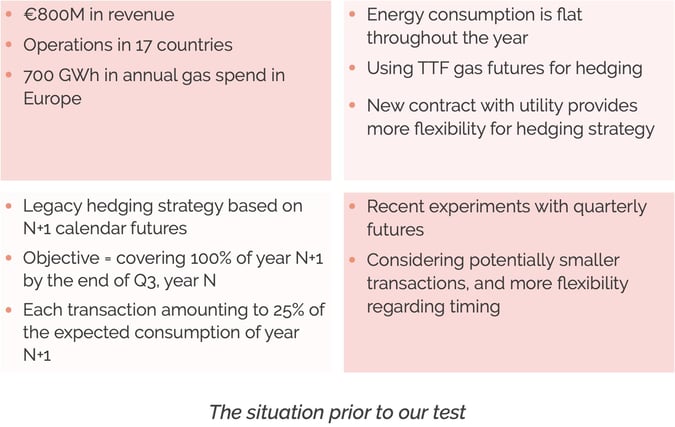 These in-house experiments left some key questions unanswered:
Could the company do better with calendar futures?
Would it benefit from an explicit price risk management rule?
Could it optimize the size and timing of its transactions?
The strategies we tested
To answer these questions, we created seven potential hedging strategies in Datapred's Decisions module: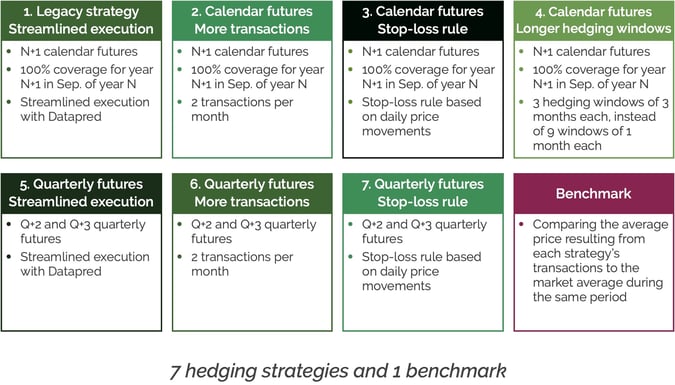 We used Datapred to play these strategies out over the past two years and test them under multiple market conditions — always benchmarking them against the "straight" market price for natural gas during the same periods.
Findings
...and we liked what we found: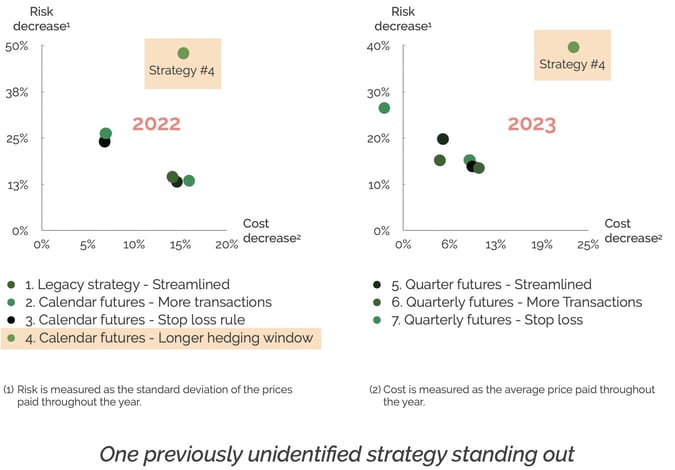 Strategy #4, which uses the same calendar futures as the company's legacy strategy, but does that more dynamically and incorporating a simple price risk management rule, significantly outperforms the other strategies along both the return and the risk axes — the financial Holy Grail.
Our test yielded other interesting learnings:
Given the company's flat consumption profile throughout the year, switching from calendar to quarterly futures is not worth the effort.
"Spreading out the risk" by increasing the number of transactions provides better price risk protection than stop-loss rules.
Dividing the year into longer hedging windows (quarters instead of months) creates price optimization opportunities.
Mission accomplished! And a great illustration of the value of Datapred's trademark combination of market analyses and optimization.
***
Interested in energy procurement? Click the banner below to schedule a call with us and discover how Datapred can help. You can also visit this page for more energy procurement resources.